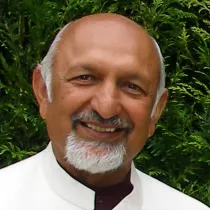 Kiran Vyas - France
Founder and director of Tapovan Open University, a bridge between East and West
Inspired by Gandhi, Tagore, The Mother, Sri Aurobindo and Yehudi Menuhin.
Kiran Vyas hails from Gujarat in India. A former student of the Sri Aurobindo International Education Centre in Pondicherry, he founded three experimental schools with his father, who was one of Mahatma Gandhi's closest collaborators.
Subsequently, Kiran Vyas chose France to promote the influence of the 'science of life' that is Ayurveda.
His scientific training, his sense of pedagogy, his keen interest in the evolution of the body and mind and his creativity led him to develop Tapovan into an 'Open University' open to all, encouraging 'inter-disciplinary' and 'inter-cultural' exchanges.
Kiran Vyas was the forerunner of Ayurveda in Europe, and it was he who introduced it in the early 80s, when nobody knew what Ayurveda was.
For almost forty years, he has been recognised as a major player in the teaching of this art of living for well-being and personal fulfilment.
Today, at Tapovan Paris or Normandy, the Kiran Vyas team invites you to a privileged encounter with yourself.