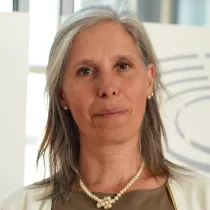 Nat. Milena Simeoni - Italy
Naturopath and Reflexologist, lecturer and teaching director of the LUMEN School of Naturopathy
(https://scuola.naturopatia.org/)
Formerly in charge, for the Piacenza center, of the DIANA 5 project (Study for the Prevention of Breast Cancer Relapses through Diet and Lifestyle) conducted by Prof. Franco Berrino of the IRCCS Foundation (National Institute for the Study and Treatment of Tumours in Milan).
In 2021 she continued her research activity as creator and manager of the naturopathic treatment protocol of the "Randomised and controlled study on the efficacy of Naturopathy in the prophylaxis of migraine" conducted by Dr. Eugenia Rota, director of the SC Neurology of the San Giacomo Hospital in Novi Ligure.
She conceived the Holistic Podalic Reflexology® method and is the author of numerous publications, of both an educational and popular nature, on Naturopathy and Traditional European and Mediterranean Medicine (https://bioshop.naturopatia.org/).
Since 2019, she has conceived and led the European SALUS initiative (www.salusnetwork.eu) and, since 2021, has been a lecturer at the Omeonatura School in Switzerland, where MTE is one of the specialisations in Naturopathy training, a federally recognised pathway.
She is co-founder in 1992 of LUMEN, one of the most prosperous and largest ecovillages in Italy (www.ecovillaggiolumen.it).